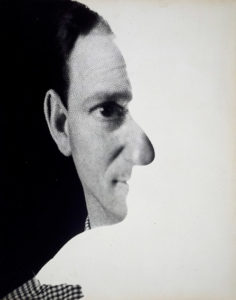 Welcome to Erwin Blumenfeld's website, one of the most influential photographers of the twentieth century. An experimenter and innovator, he produced an extensive body of work including drawings, collages, portraits and nudes, celebrity portraiture, advertising campaigns and his renowned fashion photography both in black and white and color. This site has been created by the grandchildren of Erwin Blumenfeld as a one-stop resource for anyone interested in his work. Please contact us if you have questions about any of the images or information presented here, or if you have information to contribute. If you have requests to publish, reproduce or distribute any of his images, please just ask.
"And so I became when there was really nothing left for me to do, a photographer. Everyone told me not to do it. Failed painters became window-dressers, failed window-dressers became photographers."
Opening in Paris - the Musée d'art et d'histoire du Judaïsme:
Featuring some 180 photographs, including series never previously exhibited, and numerous documents, The Trials and Tribulations of Erwin Blumenfeld, 1930-1950 exhibition focuses on the photographer's most fertile period. It also casts new light on his vision of art and his life during the Second World War.
Hôtel de Saint-Aignan
71, rue du Temple
75003 Paris
website: https://mahj.org/